Houston, we have a problem.
By now, many Idahoans have heard about the sexually explicit materials that are available in public schools and community libraries.
But one nagging question remained—just how widespread is the problem, really?
To find out, we scoured dozens of school and public library catalogues, looking for books that can be safely considered obscene for children and teenagers.
Quite frankly, even we were shocked by the results. Our investigation revealed nearly thirty cities with either a public school and/or public library where pornographic books can be accessed by children. You can see the full list in the graphic below: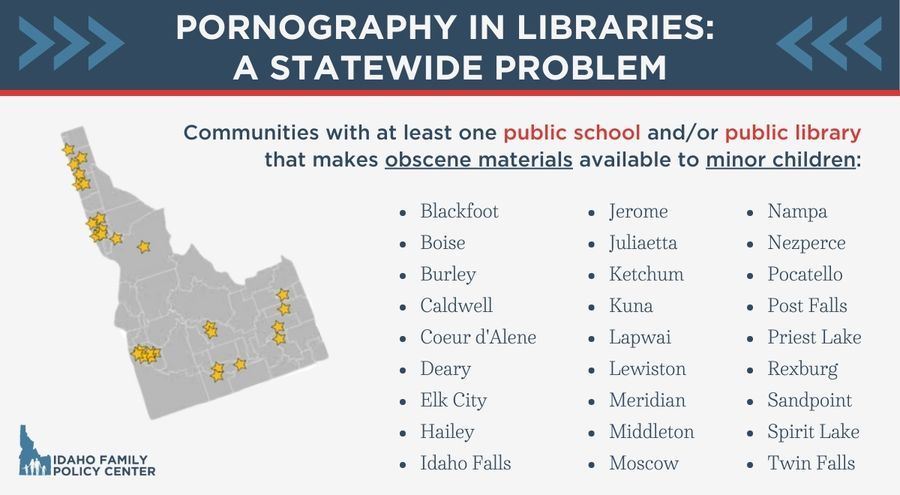 Clearly this isn't a localized issue. We're not talking about a few rogue teachers or librarians. How long will we let schools and libraries use our tax dollars to provide books that sexualize our children?
It's time for a statewide policy fix. Idaho Family Policy Center is leading the charge with our Children's School and Library Protection Act, which would stop public schools and community libraries from distributing pornographic books to minor children.
Thankfully, Rep. Jaron Crane (R-Nampa) and Sen. Cindy Carlson (R-Riggins) have agreed to sponsor this crucial legislation, proving they're willing to take the heat from the media and radical leftists.
We're expecting the House Education Committee to consider the Children's School and Library Protection Act in a public hearing sometime soon. Concerned parents and community members who would like to testify should contact our volunteer coordinator, Kelly Cope, at [email protected].
Want to learn more about this bill? Click here to view or download our one-pager explaining the Children's School and Library Protection Act. 
Lastly, bill sponsor Rep. Jaron Crane joined us on our "Idaho Family Report" podcast this morning to explain why he's so passionate about this legislation. You can listen on Google Podcasts, Apple Podcasts, Amazon Music, Spotify, or Anchor.
---